Authors: Lauren Serpico & Jeff Pawelek –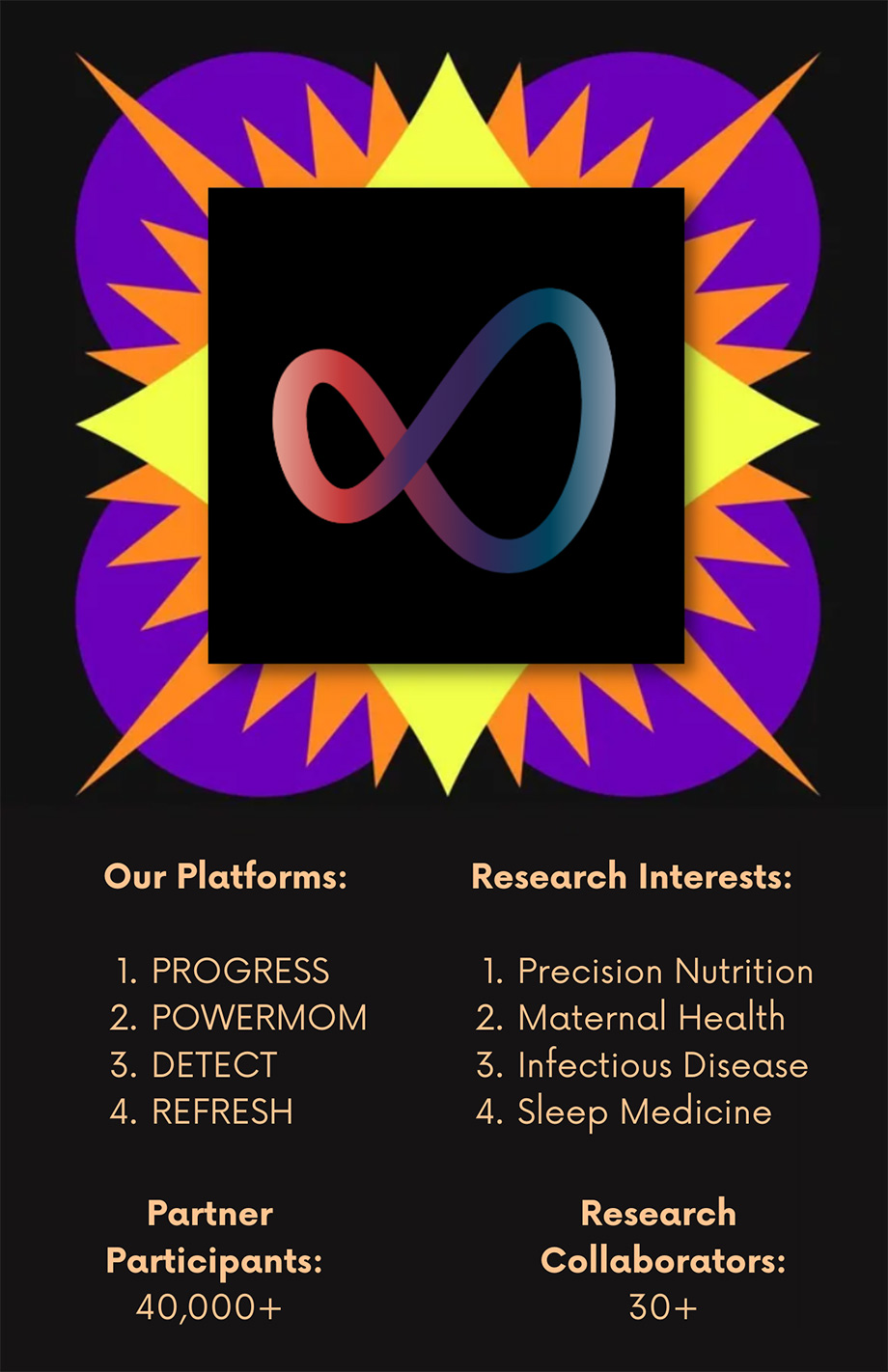 The Scripps Research Digital Trials Center leads groundbreaking studies that address the world's most pressing health concerns. As pioneers of the "site-less" clinical trial, we leverage rapidly evolving digital health technologies to re-engineer the clinical trial experience around the participant, rather than the research site.
In the spirit of reflection, we are excited to present the advances in decentralized clinical trials that our Digital Trials Center has celebrated this year.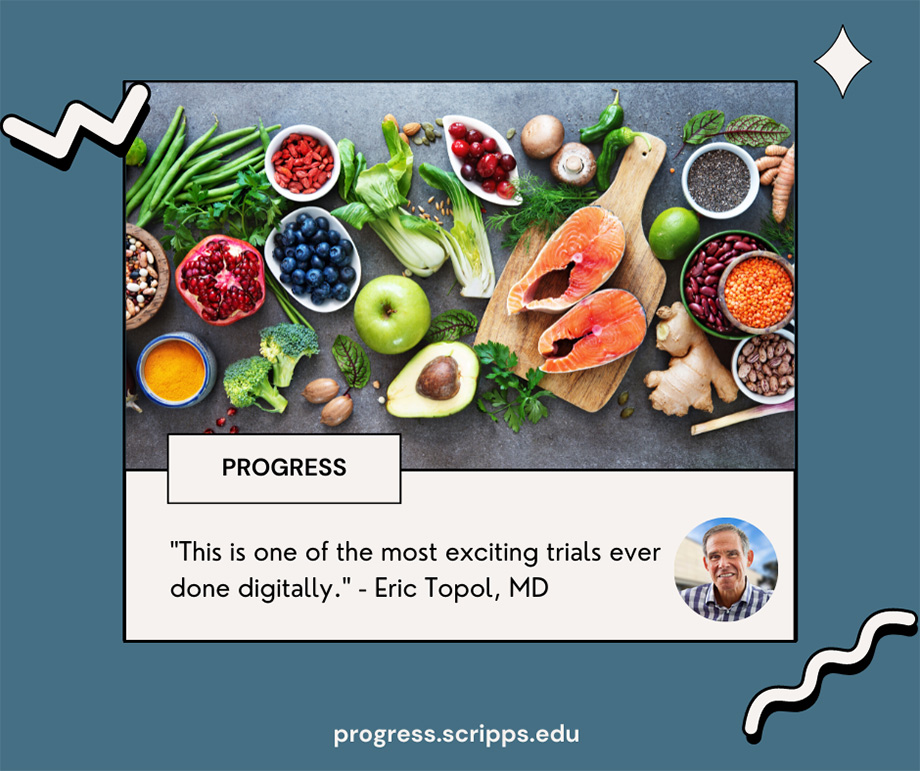 Our PRediction Of Glycemic RESponse Study (PROGRESS) explores type 2 diabetes and glycemic response through a precision nutrition lens with a sophisticated combination of participant-reported outcomes, fitness tracker metrics, self-guided biosample collections, and novel, personalized data visualizations for participants. 
Leveraging the power of genomic sequencing, gut microbiome analysis, continuous glucose monitoring and fitness tracker data, PROGRESS aims to create a prediction model for glycemic response in people with and without type 2 diabetes. 
Eric Topol, MD, notes PROGRESS as "one of the most exciting trials ever done digitally." This platform leverages the most robust direct to participant data collection, including blood, saliva, and stool samples being collected from home. Free devices that monitor blood sugar in real time as well as a fitness tracker to monitor physical activity, sleep behaviors, and heart rate are distributed to study participants. 
The advanced data visualization provided to participants has the potential to challenge and change how they live, and may lead to findings that support better overall health for them, their loved ones, and their community.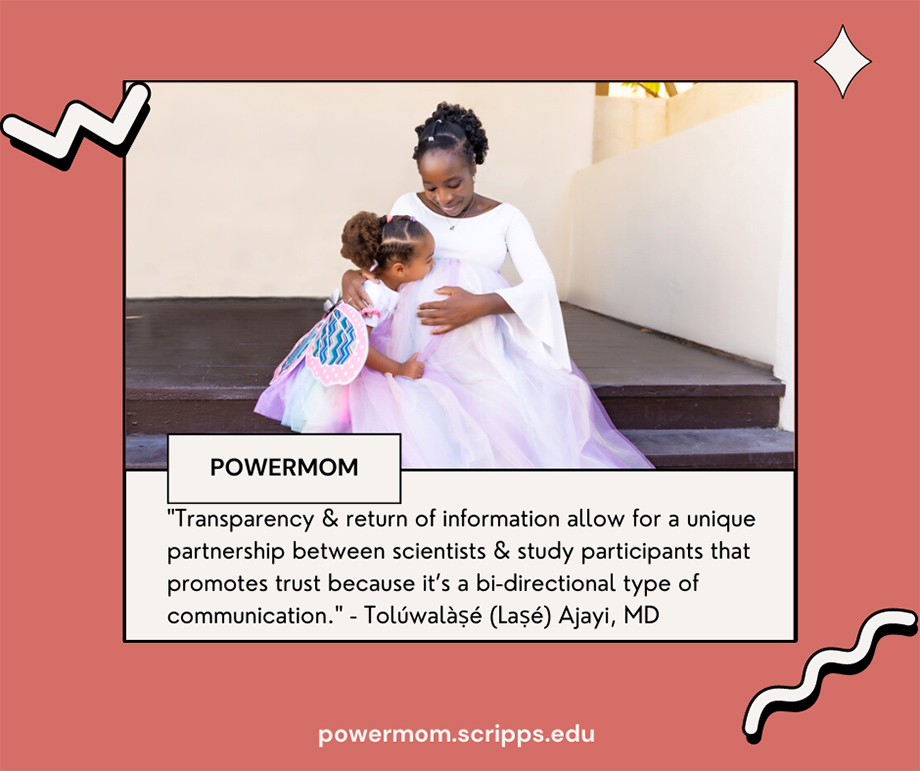 Our PowerMom study is building the largest, most diverse community of pregnant people to gather valuable health information that will hopefully help guide expectant mothers and care teams toward healthier pregnancies. 
This year we grew our  PowerMom consortium, which brings together organizations from a broad spectrum of sectors—from health and technology companies to advocacy groups and community health centers—to advance research into maternal health. Together, we are working to realize the promise for clinical advancements by advancing research to address the high rate of maternal mortality and morbidity in the U.S.
In addition to partnering with our participants to gather important information on pregnancy in our PowerMom baseline study, we are partnering with collaborators to run specific PowerMom sub-studies on conditions like postpartum mental health. Woebot Health is partnering on a new PowerMom sub study, focused on the mental health of pregnant people.
It is an honor to be working alongside these organizations as well as the PowerMoms within them. This year, we were proud to feature the empowering stories of Isabel Alvarez of Walgreens and Jessica Wade of March of Dimes on our PowerMom blog, as well as highlighting Kizzie Ricks, a certified nurse midwife and empowered PowerMom participant.
Dr. Tolúwalàṣé (Laṣé) Ajayi, lead researcher of PowerMom, made history this year as she was inaugurated as the first Black woman president of the San Diego Medical Society. In her informative Front Row Lecture, she discussed how digital technologies such as fitness trackers and mobile phone applications can help break down barriers related to clinical trial participation, empower participants with useful personalized health data and reduce disparities.
As we approach the new year, we are inviting new PowerMom consortium members to join us in advancing maternal health research.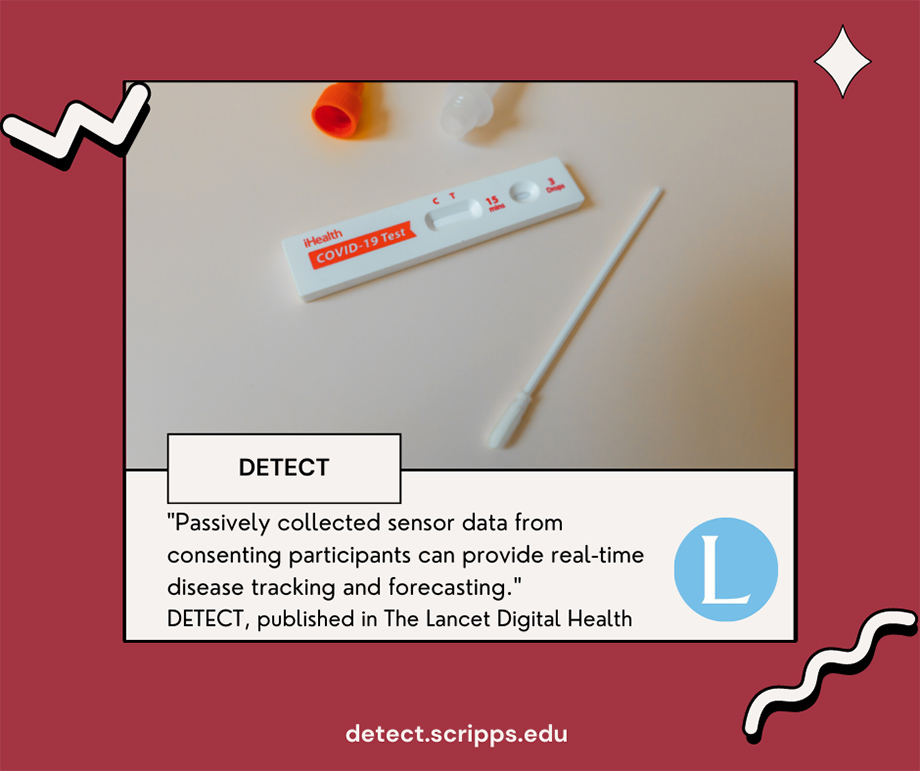 Our Digital Engagement & Tracking for Early Control, Treatment (DETECT) study uses sleep, activity and heart rate information from your smartwatch or fitness tracker to help in the early detection of viral illnesses like COVID-19.
With DETECT, we have demonstrated how wearable activity trackers can help detect viral infections such as COVID-19. We followed up with a sub-study, DETECT-AHEAD, that looked at how we can use the information from those wearables to detect the infection before someone feels sick. By combining wearables, our AI-driven algorithm, and at-home testing, we have introduced a promising new strategy to stop the spread of COVID-19 and, potentially, other infections like flu and RSV.
This year, results from DETECT and DETECT-AHEAD have been published in NPJ Digital Medicine (Inter-individual variation in objective measure of reactogenicity following COVID-19 vaccination via smartwatches and fitness bands), JMIR Medical Informatics (The Power of Patient Engagement With Electronic Health Records as Research Participants), Lancet Digital Health (Sensor-based surveillance for digitizing real-time COVID-19 tracking in the USA: a multivariable, population-based, modeling study) and Nature Biotech in both June and August (Smartphone apps in the COVID-19 pandemic; The digital phenotype of vaccination). 
DETECT has also been featured in Business Today (Smartwatches, fitness bands can track physiological response to COVID-19 vaccine) and The Economist (Data from wearable devices are changing disease surveillance and medical research). 
We are excited to announce a new research partnership with Cue Health. With the launch of ImmunoCARE, we will study whether repeated at-home tests, on-demand telemedicine, and quick delivery of medication for those who test positive for COVID-19 can reduce COVID-19 severity in immunocompromised people.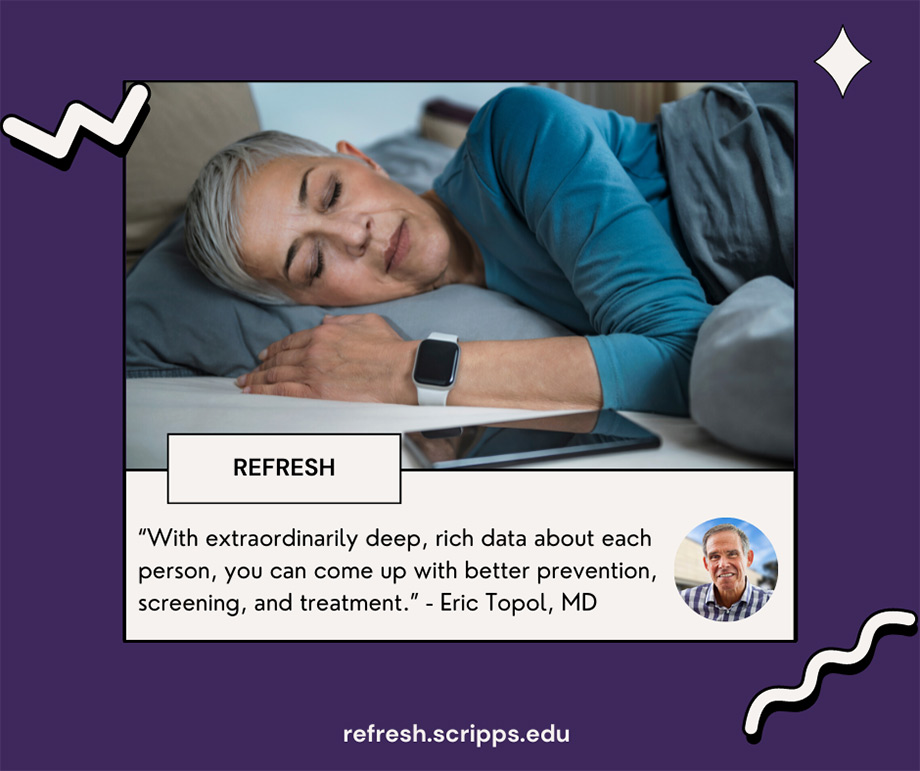 Our REsearch FRamework Exploring Sleep Health study (REFRESH) is our foundational sleep research platform that allows individuals to participate in sleep research from the comfort of their own beds with the use of wrist-worn activity trackers and app-based health surveys.
We are excited for the upcoming launch of REFRESHBrain, a new sub-study that aims to better understand how sleep impacts cognitive performance. Inadequate sleep has been linked to cognitive health problems such as Alzheimer's disease and related dementias, which women are disproportionately impacted by. Thus, we aim to partner with middle-aged women to study their sleep quality (including the presence of obstructive sleep apnea) and neurocognitive health over a 3-year period. 
As we approach the new year, we look forward to expanding future areas of research within the field of sleep health to include cognition and oncology with our latest partner, Jasper Health.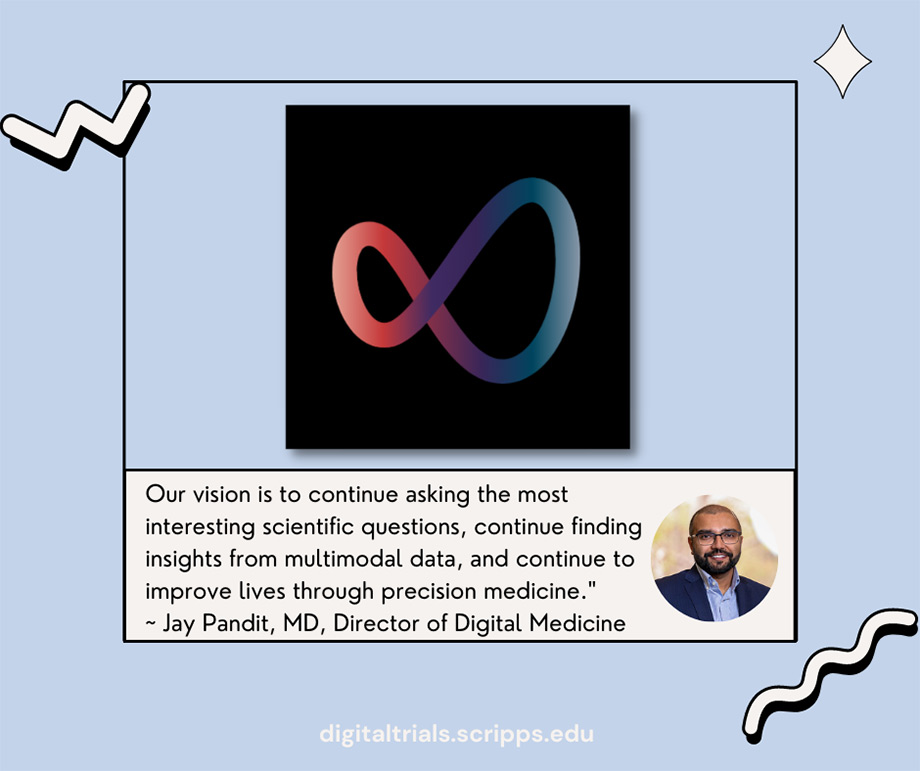 A heartfelt thank you to all of our partner participants, collaborators, and team members who have contributed to the advances in digital clinical trials that we have celebrated this year. 
If your New Year's Resolution is to help find answers to the world's most pressing health concerns, we hope you may consider joining in our mission. Together, we can revolutionize how and where clinical research is done.