Authors: Katie Quartuccio, Danielle Chiang & Jeff Pawelek –
After a thorough evaluation of at-home blood draw devices to identify the best match for the PRediction Of Glycemic RESponse Study (PROGRESS), ensuring a seamless and secure digital experience for our study participants was the next step. Here we discuss participant-facing digital solutions designed to complement the at-home blood draw process (discussed in Part 2) through the use of a smartphone app.[1]
Move Over Study Visits – Hello Study App
Study participants value an efficient, simple, and intuitive app experience that provides specific instructions.[2] Therefore, our user interface and user experience (UI/UX) experts designed the PROGRESS app to optimize usability across a broad spectrum of study participants. Within the app, specially designed modules guide participants to all required study activities, including self-collection and shipping of their blood sample. Our approach using a study app allows us to offer a different way for individuals to participate in research beyond the traditional in-clinic study visit.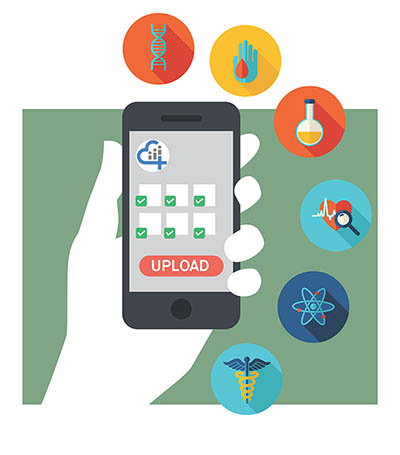 Study Coordination at Your Fingertips
Within the PROGRESS dashboard, participants are prompted to collect their blood sample by starting a "Complete Blood Collection" module, which contains step-by-step instructions including a "how to" video and tutorial handout. Throughout the blood collection process, participants who require assistance can also call into the device manufacturer's support line or contact a PROGRESS study coordinator via email or video call.
In addition to blood collection guidance, the study app provides a multitude of resources and tips to help the participant complete the entire clinical study and are accessible via the Resources tab of the study dashboard.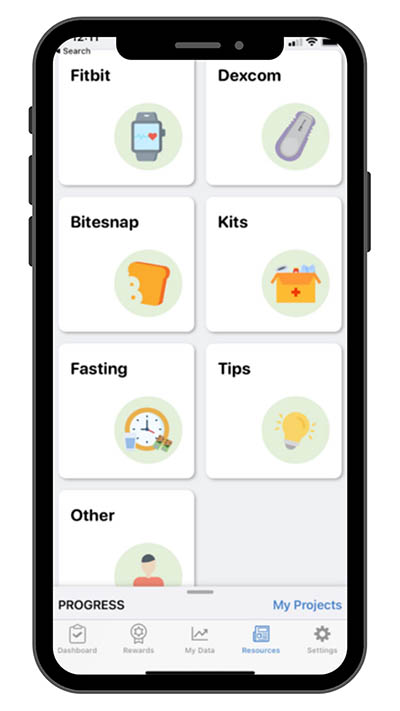 Figure 1: Screenshot of the PROGRESS app showing the Resource tab. The Resource tab offers study participants quick access to tips and other educational materials to guide them through completing all study tasks. 
Behind the App: An Extra Layer of Privacy Protection
Safeguarding the privacy of study participants is an underpinning of the Scripps Research Digital Trial Center, so we developed a system to avoid sharing participants' personal information with our third-party logistics company, biosample vendors, and independent processing labs. 
The study app automatically generates a participant ID stripped of known identifiers that is used solely by the PROGRESS research team to review participant data without seeing any identifying information such as their name. As an additional layer of protection, the study team uses a different identifier that does not link to participant data for any external vendors or labs. This allows an extra layer of protection and is intended to create a trouble-free and reassuring experience for the participants. 
Participant-Centered Digital Solutions
The PROGRESS study app equips participants with a fully integrated app to successfully collect and ship their at-home blood sample, allows the study team to track the processing of each blood sample, and protects participant privacy every step of the way.
 Currently only available on Apple iPhone devices.

 Mendiola MF, Kalnicki M, Lindenauer S. Valuable features in mobile health apps for patients and consumers: content analysis of apps and user ratings. JMIR Mhealth Uhealth. 2015 May 13;3(2):e40. doi: 10.2196/mhealth.4283. PMID: 25972309; PMCID: PMC4446515.